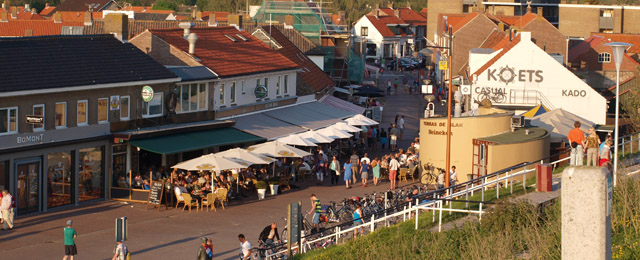 Surroundings
Zoutelande is a picturesquely situated village on the most southern peninsula of the province of Zeeland, called Walcheren. Being a small farming village originally Zoutelande has grown into a pleasant and charming seaside resort throughout the last decades, without losing its original cosiness. It turns out to be a place where many tourists like to come back to, time after time. Zoutelande, with its beautiful beaches facing south and its largest portion of sunshine of the Netherlands, is thus the ideal spot for a holiday on the beach. In this context it is not strange that the coastal area of Zoutelande is nicknamed the "Riviera of Zeeland"!

In case you are not only interested in sunbathing and relaxing, but also in to some activity during your holiday, is Walcheren the right place for you. A wide range of cycle paths and quiet country lanes offer you a large network of possibilities to discover the peninsula by bike. This gives you an ideal opportunity to enjoy the varied scenery of Walcheren with its dunes, woods, fields and green meadows and its lovely small villages scattered over the landscape.

Not far from Zoutelande there are various attractions worth visiting, like some interesting museums: from the "Zeeuws Museum" (about the history of Zeeland) in the beautiful town of Middelburg to the "Polderhuis" in Westkapelle (about Walcheren's own D-day in 1944) or to some very nice art museums. A visit to the world famous Delta Works with its aqua park "Waterland Neeltje Jansz" is also highly recommendable. And for children there are some very nice attractions too! If you are willing to use your car for a nice daytrip, the beautiful medieval towns of Bruges and Gent in Flanders are within reach. Taking the impressive Westerscheldetunnel (6 km long!) these beautiful towns are at only an hours' drive.

But, whatever you do or wherever you are on Walcheren, the sea and the beach are always close at hand. And they will always enchant you, whether it's on a sunny summer day or in winter on a cold and stormy day!